5 Langkah Bersihkan Account Facebook dari "Hantu McDonalds"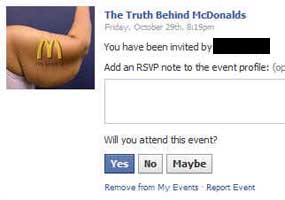 Sebuah program jahat yang mencatut nama 'McDonalds' merebak di Facebook. Jika menjadi korbannya, account Facebook Anda akan menyebarkan hal itu pada semua kenalan.
Tentunya hal itu sangat menyebalkan. Selain ada juga potensi dimanfaatkan untuk kepentingan yang tidak bisa dipertanggungjawabkan.
Lalu, bagaimana cara mengatasinya? Simak langkah-langkah berikut ini seperti disampaikan Alfons Tanujaya, analis antivirus Vaksincom, yang dikutip detikINET, Sabtu (30/10/2010):

1. Jika anda sudah terlanjur menjadi korban dan menyebarkan Event Invitation pada seluruh kontak Anda, segera informasikan ke seluruh kontak Facebook Anda untuk tidak mengklik link yang diberikan apalagi sampai menyetujui instalasi aplikasi.
2. Klik [Account] [Privacy Settings]. Anda akan membuka menu "Choose Your Privacy Settings"
3. Klik [Edit your settings] dari menu "Applications and Websites" di pojok kiri bawah untuk membuka menu "Choose Your Privacy Settings > Applications, Games and Websites"
4. Klik [Remove unwanted or spammy applications] untuk membuka layar "Applications, Games and Websites > Applications You Use" dan klik tanda X di sebelah "Edit Settings"
5. Anda akan mendapatkan layar konfirmasi Remove, klik tombol [Remove] untuk menghapus program HD Video Player.